Well, Halloween is "creeping" upon us ever so quickly. It's apparent for we are all being bombarded with the annual display of images of spiders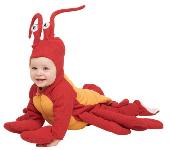 and goblins, skulls and blood, and witches and zombies. Among all the gloomy and perverse outfits and decor, however, arise some quite entertaining and ingenious costumes, especially those of the kids. After all you can't help but smile at toddlers dressed as firemen, over-sized m&m's, and even lobsters!
This annual event is and has been quite a point of controversy for many people, particularly among those who are seeking to make godly decisions and aren't exactly sure where celebrating Halloween falls on God's scale of right and wrong. Many point out that Halloween is rooted in pagan traditions and rituals and that for one to "glorify" Halloween, he might as well be worshiping Satan. On the other hand, children dressing up, getting candy, and bobbing for apples hardly seems to be some unholy worship of false gods-why deny children such innocent fun?
There are some things we may not understand about Halloween and/or God's Will concerning such a celebration. However, to quote an old pastor of mine, "don't let what you don't know rob you of what you do know." Going to the Bible and seeing what Jesus said, here are some things we do know:
Matthew 5:14,16- "You are the light of the world...Let your light shine before men in such a way that they may see your good works, and glorify your Father who is in heaven..."
Halloween is characterized by darkness and gloom-

We are to be the Light in a dark world.
John 15:11;14:27- "These things I have spoken to you, that my joy may be in you, and your joy may be full..." & "I do not give as the world gives. Do not let your hearts be troubled and do not be afraid."
Halloween's theme is horror and fear-

We are to be joyful and faithfu

l.
Matthew 5:14,16
- "I came that the may have life, and have it abundantly... "
Halloween depicts (even glorifies) death-

We are to have Life through Christ and offer this Life to others.
So, however you approach Halloween weekend, be safe and keep these passages in mind. God bless, and hope to see you Sunday.
On the Journey Together,
Justin